All Types of Used Forklifts for Sale
Advantage Material Handling (AMH) takes pride in the commitment to customer service. Whether it is electric, LPG, or Diesel, our goal is to provide equipment that fits your needs. We have many different types of used forklifts for sale and stand behind the quality of our inventory. Advantage Material Handling takes satisfaction in knowing that each of the forklifts, narrow aisle, and aerial equipment that enter our shop is fully inspected by trained technicians and ready to work with a turn of a key.
All Major Brands of Used Forklifts for Sale
With many makes and models available, Advantage Material Handling has got you covered. We sell and service all brands of forklifts, narrow aisle, and aerial equipment including:
Toyota
Hyster
Yale
Crown
Caterpillar
Mitsubishi

Raymond
Komatsu
Clark
Nissan
… And More
Pneumatic or Cushion Tires
Selecting the right tire is an important decision when purchasing material handling equipment. There are two types of tires for forklifts, pneumatic tires and cushion tires. The tire you need will depend on your application and whether the unit will be used primarily indoors or outdoors.
Pneumatic tires give your forklift more versatility. They can be used indoors and outdoors, but are most useful in outdoor applications such as gravel or rough/unpaved surfaces. Pneumatic tires can be air filled or solid. Air filled pneumatic tires handle better in gravel but are susceptible to nails and debris that might puncture or flatten the tire. Solid pneumatic tires are essentially made of solid rubber and can handle the most extreme terrain in your yard.
Cushion tire forklifts are primarily used on smooth and even surfaces. Cushion tires are intended for indoor warehousing operations. They can go outdoors but they are limited to paved surfaces such as concrete or asphalt. Cushion tire forklifts have a longer life span than pneumatic tire forklifts primarily because the applications are generally less abusive.
Check Out Our Rental Rates
Check Out Our Sales Inventory

Electric Forklifts for Sale
Lowers fuel costs
Dramatically reduces emissions
Operates quietly
Requires on-site charging station or portable charger
LPG Forklifts for Sale
Internal Combustion Engine
Lower initial operating costs
Most efficient to refuel
Low emissions
Diesel Forklifts for Sale
Internal Combustion Engine
Better Fuel Efficiency than LPG
Easy to start in cold weather
Best used outdoors
Forklifts We Have For Sale Are In Stock And Ready For Same Day Purchase
Many of the used forklifts for sale by Advantage Material Handling are available onsite at our Mundelein, IL location. They are available for same day purchase.
Capacities From 3000 lbs. to 15,500 lbs.
Advantage Material Handling maintains a wide variety of lifting capacities in our fleet. Our options range from 3,000 pounds to 15,500 pounds.

New paint, tires, and aftermarket upgrades are available on all used forklifts for sale. Just tell us what you need and our shop will do the rest. We promise any new addition will meet your satisfaction.
Our company offers same day delivery on all used forklifts in sale and in stock. If you're in a bind and need a forklift immediately, Advantage Material Handling has the equipment and capability for a speedy solution.
We buy lease returns, ex-rentals, and trade in forklifts. The relationships we've established with vendors across the country allow us to provide quality equipment at competitive pricing.
Advantage Material Handling is customer driven. Understanding our clients' needs when it comes to forklifts sales is how we save our customers time and money. Combining our experience in the industry with excellent customer service will help ensure you have the right forklift for the job.
We have the capability to ship our forklift sales outside the United States. We work with a variety of freight companies, container companies, and port authorities to securely transport material handling equipment to your desired location. So no matter where you are in the world, we have the people and the resources to deliver the forklift you need.
Reliability, Timeliness, & Pricing Are Key
We believe in getting the job done correctly the first time, while maintaining a sense of urgency and providing the best pricing. We expect the same of the shipping firms we use to get equipment to our customers. We consider this an important extension of our customer service. That is why we only use transportation companies that help deliver products efficiently and in a timely manner.
Growth of Advantage Material Handling's International Sales
We take pride in the diverse business relationships we maintain, in North, South and Latin America. We insist on being a reliable source of equipment for companies outside the United States. The success of our operation is dependent upon quality units, strong customer service, and the ability to see the equipment through from start to finish.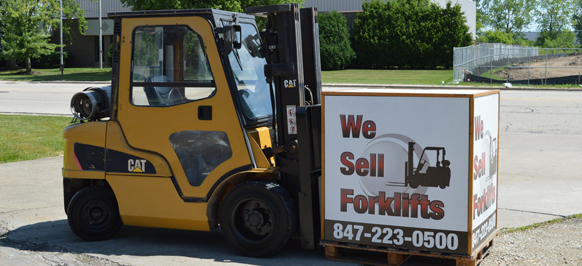 Forklift Sales Tailored to Specific Needs
We believe in delivering the right piece of equipment the first time. We begin with a brief conversation to assess customer needs and to assure the best equipment fit. We gather information on:
Operating Environment – indoor/outdoor application
Maneuvering Requirements – width of aisles
Surface – grade, hardness
Capacity Requirements – weight to be lifted, how high does product need to be lifted
Functions – are any attachments or special features required
Check Out Our Rental Rates
Check Out Our Sales Inventory