Get A Used Forklift Price Today
From a single unit to an entire fleet, we buy and sell used forklifts and other material handling equipment from anywhere in the continental U.S. We are dedicated to our sellers as well as our buyers and we can provide a used forklift price to you. We build and maintain long-lasting partnerships with our clients, delivering the superior service they expect and deserve, while providing them with a seamless experience throughout the buying and selling process. We stand by the quality of our equipment fleet by inspecting most of our used material handling equipment, ensuring customers are purchasing the right equipment for their business needs.
Trade-in Options Towards Purchase of a Forklift
Whether you have a single unit or an entire fleet, Advantage Material Handling is your one-stop-shop to get a used forklift price. We buy and sell forklifts and other material handling equipment and we believe in providing a fair forklift value to both buyer and seller. When you trade in your forklift, narrow aisle, and aerial equipment, rest assured you will be receiving the best value from Advantage Material Handling. Call us at (847) 223-0500.
Our staff is trained and has decades of combined experience. If you are ready to sell your forklift, contact an AMH representative today. You will find we offer competitive pricing when buying, selling or renting a used forklift from us, or when repairing a forklift.We can repair all types of mechanical parts. because we are a full parts supplier. Contact us today for all your forklift needs to keep your business in business. 
Contact Us Today!
Call us at 847-223-0500
or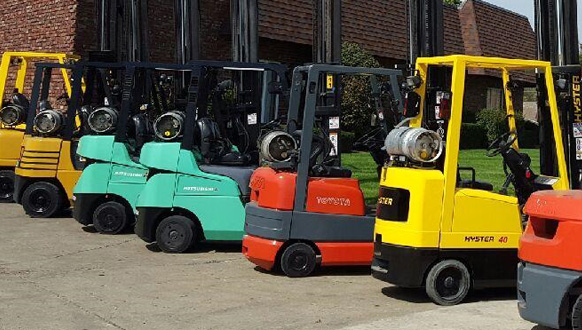 Liquidation and Warehouse Consolidation
No matter the reason, if you are consolidating warehouses, liquidating equipment, or merely want to adjust for production changes, consider us your partner in your asset liquidation. We understand the desire to optimize return on your capital investment, ASAP. We will provide you a material handling and used forklift price to help shore up your bottom line. Get started today by giving us a call at (847) 223-0500
Find Out What Your Forklift is Worth
What is my forklift worth? Don't guess! AMH can give you an offer on your used forklift or material handling equipment. It's only an email away. Click on the contact us link in the middle of the page. Please include model and serial number of the equipment as well as a current phone or email address so we can respond back with our offer. AMH buys forklifts and material handling equipment all over the continental United States. We pay in advance and cover shipping costs from your dock out ours. AMH makes it easy to sell your lift and put that money back into your pocket.