Advantage Material Handling (AMH), has an extensive rental fleet to handle all your lifting needs. Whether the forklift you own requires maintenance, your business experiences seasonal trends, or you have short term demands. Whatever the case, AMH has equipment ready to work for you. We cover commercial, industrial, municipal, and specialized service industries. Our forklift rental program includes a variety of units with differing capacities and fuel alternatives such as liquid petroleum gas (LPG), electric, and diesel forklifts. They are serviced and maintained by trained technicians in order to ensure a reliable forklift is available at a moment's notice. Call us today for dependable forklift rentals.
Forklift Rentals with Varying Capacities
Our forklift inventory contains various capacities which range from 3,000 pounds to 15,500 pounds.
Forklift Rental Considerations
How much weight are you picking up? How high are you lifting your product? Will this lift be primarily used indoors or outdoors? Will you require certain features or attachments? All of these questions can make renting forklifts seem challenging, but rest assured our sales staff is here to help. We are dedicated to finding the best solution for your lifting needs and making forklift rentals a breeze.

Electric Forklift Rental:
Lowers fuel costs
Dramatically reduces emissions
Operates quietly
Requires on-site charging station or portable charger
Liquid Petroleum Gas (LPG) Forklift Rental:
Internal Combustion Engine
Lower initial operating costs
Requires LP tank
Low emissions
Diesel Forklift Rental:
Internal Combustion Engine
Better Fuel Efficiency than LPG
Easy to start in cold weather
Best used outdoors
How Do You Know You Are Getting A Good Deal?
Check out our competitive rental rates today and see why Advantage Material Handling is the place to come for all of your forklift needs.
Check Out Our Rental Rates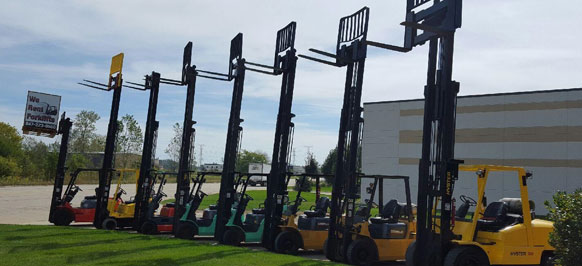 Forklifts Available for Same Day Rental
We have a wide-ranging inventory of rentals and can arrange same day delivery.
Single day, weekly, and monthly rental rates.
Whether you need a lift for a single project, seasonal job, or temporary replacement, we have the equipment and the program to fit your rental schedule.
LPG tanks available to rent
We rent liquid petroleum gas (LPG) tanks for your convenience. Talk to your sales representative about this feature and much more.
Rent-to-Own Options Available
AMH offers a Rent to Own Option for those customers who want to ensure a unit is the right fit for their application. Our goal is customer satisfaction and you will not be disappointed. Ask one of our sales representatives about our rent-to-own option.
Knowledgeable, courteous, and fast customer service
Our sales staff has over 40 years of combined experience. We make it a point to know our product and our customer. We pride ourselves on prompt and courteous service. Get the advantage. Let Advantage Material Handling assist you in finding solutions to your lifting problems.